was Trump's tweet about Schumer and Putin on point or inappropriate?
Opening Argument
Trump posted a photo of Schumer and Putin in New York smiling while eating donuts and coffee and wrote: "We should start an immediate investigation into
@SenSchumer
and his ties to Russia and Putin. A total hypocrite!"
I think Trump' twit to investigate Schumer and Putin relationship although obviously not to be taken literraly, makes a good point.
So if sessions got his morning coffee at a coffee stand, and the guy who served him that coffee was a russian immigrant - would that make him a lier that he didnot have conversations with "russians"?
http://www.cnn.com/2017/03/03/politics/donald-trump-chuck-schumer-russia-twitter/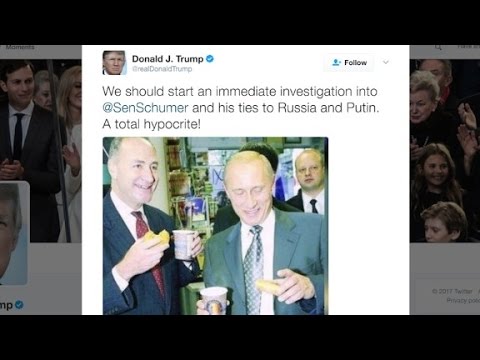 9 votes

Yes - Right on point by Trump

77.78%

No - Donald, what were you thinking

22.22%
Live Long and Prosper
Back To Top